Last update 31-Dec-2019
The QSL's are confirmed only via LOTW. No paper qsl added!

The complete list of worked and confirmd DXCC's via LOTW in PDF format.
Passed 1600 challange marker in August 2017 and counted 1671 DXCC's on HF at 1-Jan-2018.
Passed 1700 challange marker on 6-Mar-2018.
Passed 1750 challange marker on 25-Jul-2018.
Passed DXCC nr 100 on 12M via LOTW. This means 9 band DXCC via LOTW on 17-Oct-2018.
Passed 1800 challange marker on 3-Feb-2019.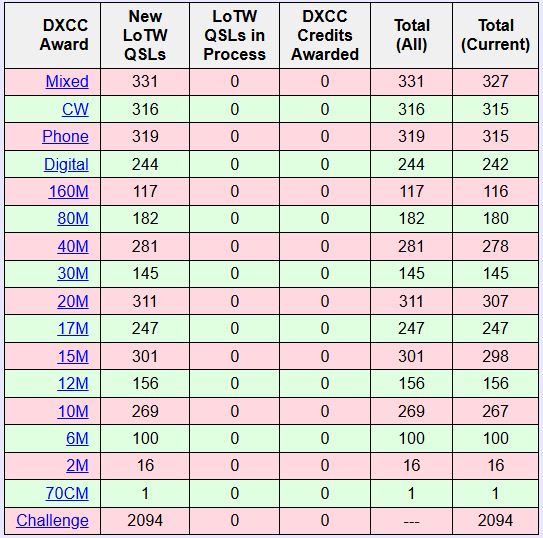 Nr#
Station
Mode
DXCC
160
80
40
30
20
17
15
12
10
Totaal
51
PI4CC
MIXED
322
110
173
262
126
304
223
285
108
255
1846
40
PI4CC
SSB
306
74
115
188
 
266
137
247
82
217
1326
36
PI4CC
CW
304
105
163
245
116
269
158
252
51
213
1572
28
PI4CC
RTTY
226
1
89
145
43
185
76
163
10
127
839