PACC2012 contest
This year the PACC 2012 will be in the weekend of 11-12 februari 2012.
This contest start at 12 utc and run for 24 hours.
Please have a look at the official PACC site to see the details.
PI4CC will take part in the Multi/Multi section to defend there first place last year.
During and after the contest will will upload photo's and other infomation on this page. Stay tuned!
15:33 utc1000 qso's in the log
19:19 utc 2000 qso's in the log
01:30 utc 3000 qso's in the log
04:50 local time turn frozen rotor on 15m by hand (up the tower)
07:33 utc 3500 qso's in the log
11:59 utc The end result: 4315 qso's
Wil, PA3ALK has made a very nice video. To get an impression how the PACC feeling is at PI4CC look here!.
PF5T has make a write-up in dutch. Frank was a first time guest operator, and I guess he has a good time at PI4CC.
A collection of photo's taken during the PACC event can been seen here.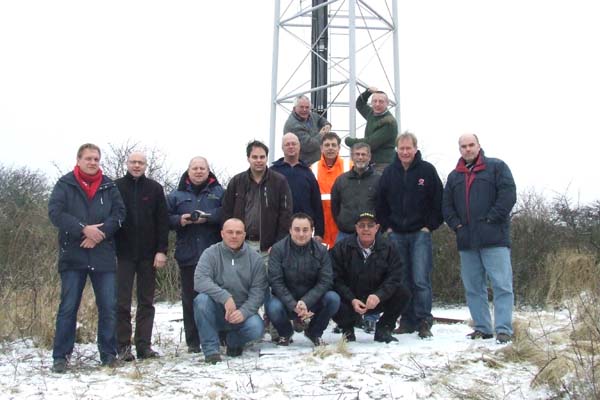 PACC2012 contest score M/M
Stand na het eerste telefoontje:
PA6Z 1,730000
PI4CC 1,670000
PI4ZI 1,350000
PA3FKN 1,170000
PA6NB 1,100000
PA0AA 1,050000
PI4COM 704503
| | | | | |
| --- | --- | --- | --- | --- |
| PA6Z | CW | SSB | Multie | Punten |
| 160 | 124 | 233 | 38 | 13566 |
| 80 | 344 | 486 | 58 | 48140 |
| 40 | 473 | 668 | 89 | 101549 |
| 20 | 471 | 510 | 93 | 91233 |
| 15 | 375 | 385 | 86 | 65360 |
| 10 | 94 | 134 | 40 | 9120 |
| Totaal | 1881 | 2416 | 404 | 1735988 |
| | | | | |
| --- | --- | --- | --- | --- |
| PI4CC | CW | SSB | Multie | Punten |
| 160 | 228 | 124 | 39 | 13728 |
| 80 | 465 | 471 | 58 | 54288 |
| 40 | 523 | 671 | 84 | 100296 |
| 20 | 523 | 387 | 92 | 83720 |
| 15 | 359 | 359 | 84 | 60312 |
| 10 | 169 | 36 | 31 | 6355 |
| Totaal | 2267 | 2048 | 388 | 1674220 |
| | | | | |
| --- | --- | --- | --- | --- |
| PI4ZI | CW | SSB | Multie | Punten |
| 160 | 188 | 117 | 32 | 9760 |
| 80 | 435 | 361 | 56 | 44576 |
| 40 | 591 | 516 | 81 | 89667 |
| 20 | 450 | 345 | 81 | 64395 |
| 15 | 257 | 344 | 71 | 42671 |
| 10 | 71 | 95 | 38 | 6308 |
| Totaal | 1992 | 1778 | 359 | 1353430 |
| | | | |
| --- | --- | --- | --- |
| PA0AA | ALL | Multie | Punten |
| 160 | 208 | 26 | 5408 |
| 80 | 675 | 48 | 32400 |
| 40 | 922 | 75 | 69150 |
| 20 | 646 | 71 | 45866 |
| 15 | 543 | 82 | 44526 |
| 10 | 185 | 30 | 5550 |
| Totaal | 3179 | 332 | 1055428 |
| | | | | |
| --- | --- | --- | --- | --- |
| PA3FKN | CW | SSB | Multie | Punten |
| 160 | 213 | 75 | 34 | 9792 |
| 80 | 376 | 375 | 52 | 39052 |
| 40 | 680 | 167 | 78 | 66066 |
| 20 | 428 | 364 | 82 | 64944 |
| 15 | 288 | 59 | 55 | 19085 |
| 10 | 88 | 39 | 28 | 3556 |
| Totaal | 2073 | 1079 | 329 | 1037008 |
| | | | | |
| --- | --- | --- | --- | --- |
| PA6NB | CW | SSB | Multie | Punten |
| 160 | 51 | 105 | 26 | 4676 |
| 80 | 244 | 375 | 46 | 28474 |
| 40 | 205 | 496 | 56 | 39256 |
| 20 | 219 | 390 | 65 | 39585 |
| 15 | 212 | 306 | 74 | 38332 |
| 10 | 62 | 62 | 19 | 2356 |
| Totaal | 1292 | 1045 | 286 | 779922 |
| | | | | |
| --- | --- | --- | --- | --- |
| PI4COM | CW | SSB | Multie | Punten |
| 160 | 116 | 51 | 28 | 4676 |
| 80 | 318 | 91 | 55 | 22495 |
| 40 | 406 | 62 | 68 | 31824 |
| 20 | 224 | 590 | 93 | 75702 |
| 15 | 213 | 219 | 63 | 27216 |
| 10 | 15 | 32 | 12 | 564 |
| Totaal | 1292 | 1045 | 319 | 745503 |