The controller.
Its seems that DXengineering still sells the orginial controller.
Attention read this if you use the DXengineering controller!
Lowband systems
has a unit that can controll the array.
An example by PE5TS: The standard contollor can easy build on a DIY Universal Board Its just a switch with 2/4/8 postions and some diodes.
An example by WB9HBH: The control box is a copy of the YCCC unit with a KMTronics USB relay controller attached for computer control.
We build a controller based on a Arduino. The controller with 8 buttons is build around a wifi clone. The controller send direction info to a arduino (as server) with a LAN and relais shield. Via LAN its receive the wanted relais combination to control the outdoor switch unit. The arduino with LAN shield can also be remote controled via a web interface. If you have some programming on a arduino before, this will just a funny project to build the complete controller/server unit.
A controller per manual is under construction. The PCB's are ordered as are the components. The PCB will looks like below and wil be 100 x 100 mm.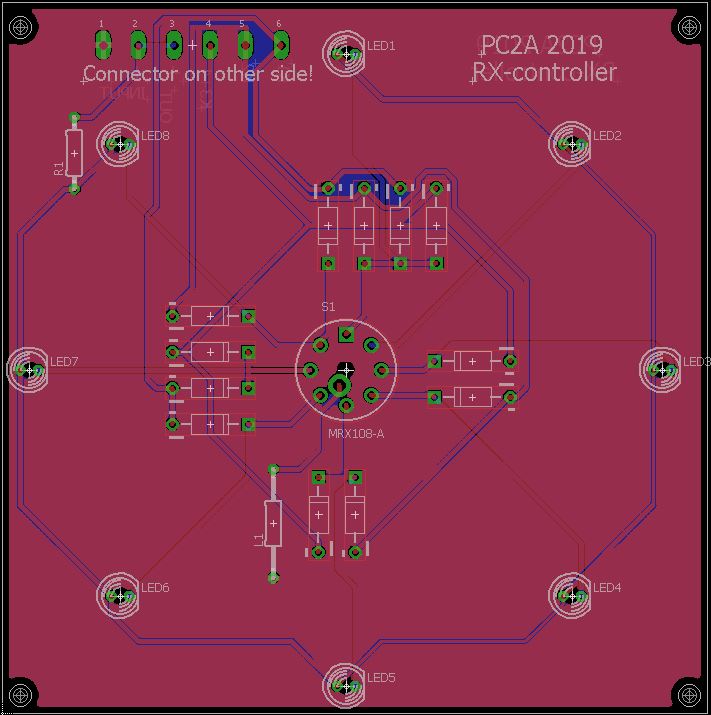 © Copyright 1996 - PI4CC All rights reserved.